4322 E University Dr, Phoenix, AZ 85034
$380k STRATEGIC COMMERCIAL LOT
3 parcels included (1/2 AC total)
SQ FT: 2,400 SF Shop
LOT SIZE: 23,148 (3 parcels total)
TERMS: Cash or Hard Money
CLOSING: 10 days or less
ACCESS: CALL FOR ACCESS
PROXIMITY TO AIRPORT!
Strategically positioned in Phoenix's North Airport Industrial submarket.
3 -Bay workshop, 2,400 SF.
Frontage on University Dr.
This property is in a HOT AREA, LOTS OF COMMERCIAL MOVEMENT , STREET EXPOSURE WITH HIGH TRAFFIC COUNT
3 parcels included in the sale.
THIS IS THE FIRST EXIT OUT OF THE AIRPORT WHEN YOU EXIT SOUTH ON THE FREEWAY. Located ON University & the 143 Freeway.
In the HEART OF PHOENIX, and the surrounding cities.
Currently used as a granite storage shop.
Has a mobile storage/office
3 bay warehouse
Perimeter chain-link fence
Sought after commercial property, RARE OPPORTUNITY
Property square footage, neighborhood data and lot size is based on information found on public and county records. Please do your own due diligence.
CALL or TEXT FOR MORE INFO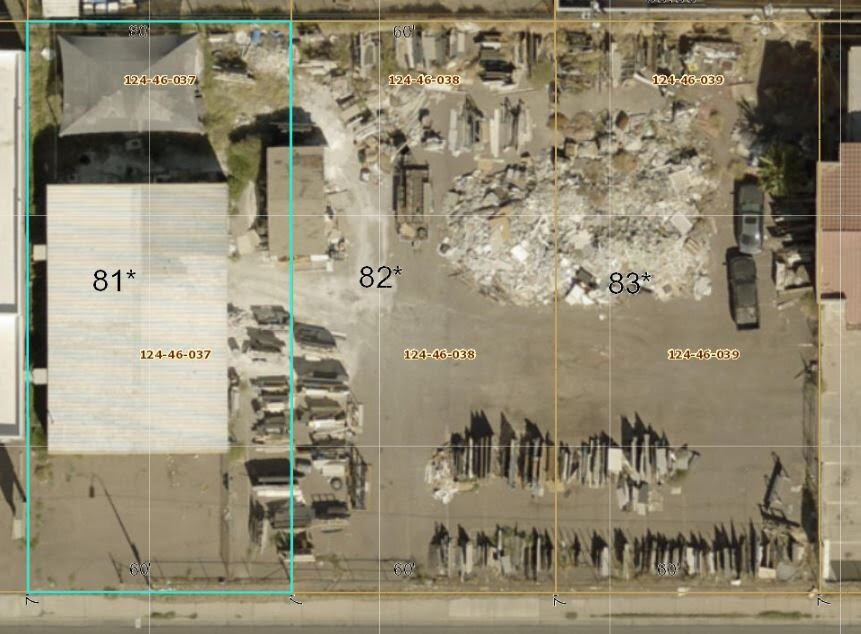 Purchase Price
$380,000
Net to Seller
4322 E University Dr, Phoenix, AZ 85034
TERMS OF THE SALE
Price is NET TO SELLER based on quick closing of 10 days or less.
Buyer to Pay All closing Costs.
Seller of this property either owns or has equitable interest in the properties marketed
Seller has exclusively relied upon the information listed within the ARMLS, Maricopa County Assessor's office, and Property Tax office to determine all measurements including lot size, square footage, number of bathrooms, number of bedrooms, number of total rooms, zoning, permitted and prohibited uses, construction materials, parking, year of construction, and all other pertinent data relating to the physical improvements and land area of the subject property.
Buyer acknowledges and accepts that Seller makes no representations and warranties of any kind, whatsoever, as to the actual conditions that may exist within or around the property, and Buyer acknowledges that it has conducted its own investigation of these facts, and is purchasing the subject property based upon its own conclusions.
Buyer expressly acknowledges that it is purchasing the property in "AS IS, WHERE IS" condition.
ll properties Subject to errors, omissions, deletions, additions, cancellation. All properties sold as is, where is with absolutely no representations written or oral.
Buyer is to do their own independent due diligence. Buyer to verify all material facts including square footage.
$5,000 Non-Refundable earnest money to be deposited by NOON on the following business day from contract acceptance or contract will be cancelled at sellers discretion. Pulse Capital LLC reserves the right to keep the status of the property as "Available for Purchase" until the ernest money has been deposited with the designated title company. Buyer must close with cash or hard money loan, and submit proof of funds or approval letter with offer.
REALTORS
REALTORS ADD YOUR FEE ON TOP OF THE PURCHASE PRICE.
If you are currently working with a client, and wish to receive a commission, please note that the wholesale price does not include your commission. You may want to negotiate a commission with your client separate from the wholesale price or you may adjust the wholesale price upwards to include your commission.
DISCLOSURES
PulsePropertyHub.com is a domain owned and controlled by Pulse Capital, LLC and all homes listed herein are owned or under contract by Pulse Capital, LLC. Pulse Capital LLC is the business of acquiring properties as real estate investments and selling them or the equitable interest for a profit to the general public or other investors. Properties are acquired through a variety of sources. All prices are net amount to seller; buyer pays all closing costs. Prices are based on a quick closing in 10 days or less. Opinion of value is given as a courtesy. our opinion is just an opinion and seller makes no guarantees or warranties, expressed or implied, as to the value or condition of the home. Properties are being sold "as-is" and "where-is". Buyer is responsible for their own due diligence.
Seller makes no warranty of any kind, expressed or implied, regarding the condition, square footage, insurability, verification of septic or sewer connection, structural, plumbing, electrical or mechanical systems, wells, heating, air conditioning, appliances, soil, foundation, pool/spa, and related equipment, environmental hazards (such as asbestos, formaldehyde, radon gas, lead based paint, fuel or chemical storage tanks, hazardous waste, landfills, high voltage electrical lines, location near superfund areas, endangered species, water quality, geologic conditions), location of property lines, water/utility use restrictions, flood plain, building permits or compliance with building codes, zoning, the occurrence of disease, death, homicide, suicide, or other crime in the vicinity of the premises.
Everything, not limited to the above referenced items, is the responsibility of the buyer to investigate and satisfy to a level suitable to the buyer, prior to signing a contract to purchase the property or depositing earnest funds. Typically the seller gathers information regarding square footage, lot size, year built, condition, values, etc. from the Assessor's website. Although it should be accurate, it has been known to produce varying information on occasion. The Seller is not held liable for any information released to the buyer from any source referenced for the buyer's convenience.
Buyer must do their own due diligence, evaluation and inspection prior to making an offer. Determining value is the buyer's responsibility. Seller strongly recommends buyers employ an Investment Realtor to help determine value. Any reference to the value of a property by the Seller or any representative of the Seller is an opinion of value. Everyone has a differing opinion on value, cost of construction, materials, quality of workmanship and market speculation. Value is ultimately the buyer's responsibility and they should be diligent in determining market value.
Pulse Capital, LLC may or may not currently own all of the properties listed on this site and may be marketing the equitable interest however great or small in the given properties. Some of the properties listed on this site are under contract such that the buyer is Pulse Capital, LLC. As to those properties, Pulse Capital, LLC may not be selling the subject property on this site; rather, Pulse Capital, LLC, is only selling (without any warranty or representation other than it is the buyer under the subject contract) its contract rights as buyer of such property.
Some of our properties are occupied. Please call to setup viewing appointment, please do not disturb occupants.
Seller of this property either owns or has equitable contractual interest in the properties marketed.
All properties Subject to errors, omissions, deletions, additions, cancellation. All properties sold as is, where is with absolutely no representations written or oral. Buyer is to do their own independent due diligence. Buyer to verify all material facts including square footage. Property will not be considered under contract until signed contract and deposit received with all contingencies removed. Sales price is net to seller.
One or more of the members of Pulse Capital LLC holds an active Real Estate License in the State of Arizona.